The words on this CD are the basic words learned in early language development. Many photos have a white background to make it easy for children to distinguish figure/ground. The photos and videos feature children's toys and clothing. The videos have simple backgrounds and feature children as actors.
Target Audience: Appropriate for Pre-school–3rd grade for neurotypical toddlers, kindergarteners, as well as older children with Autism, PDD, Down Syndrome, Cerebral Palsy, Language Delay, Aphasia, Apraxia, or Dysarthria.
Save when you download from Gumroad.
Basic Words for Children (Windows)
Information for Professionals:

The target populations are: neurotypical toddlers, kindergarteners, children with Autism, PDD, Down Syndrome, Cerebral Palsy, Language Delay, Aphasia, Apraxia, or Dysarthria. The therapy goal is vocabulary development for very young children. There are four games with a total of 580 vocabulary words.
Games on this CD.
100 Basic Words for Children
100 Basic Words presents a basic vocabulary for children acquiring their first words.
Categories of words included in this game are verbs (presented on videos), food, clothing, and toys. Each category has 25 pictures arranged hierarchically from most to least familiar.
Videos: running, walking, jumping, kicking, bouncing...
Food: apple, banana, toast, popcorn, sandwich, water, cheese...
Clothing: pajamas, socks, boots, hat, sweater...
Toys: ball, truck, wagon, teddy bear, shovel, fire truck...
Wild, Woolly, Wonderful Critters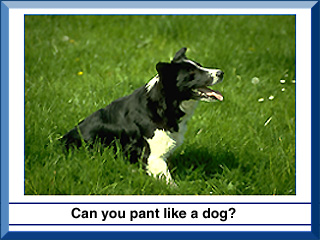 Wild, Woolly, Wonderful Critters presents 120 animal pictures arranged by habitat.
There are eight stimuli for each of 120 animal pictures: word; parentese (gender neutral term coined by Robert Owens, 1996); carrier phrase; question; descriptive phrase; descriptive statement; functional statement; and the initial sound of the target word. Habitats include: House, Ranch/Farm, Forest, Mountain, Desert, Insect, River/Lake, Ocean, Africa, Jungle, Prairie/Grasslands, and Tundra/Arctic.
And a One, Two, Three!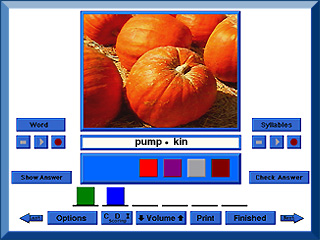 And a One, Two, Three! is a great tool for stimulating auditory processing and expressive language.
Recent research indicates that phonemic processing is critical to auditory processing of connected speech. This program allows for auditory processing of speech sounds at the syllable and word levels. In this syllable segmentation game, skill levels are easily controlled by choosing from 1-6 syllables for expressive practice. The "Record and Play" feature allows clients to record their own speech— then listen to it. There are 360 words to practice and each has a corresponding picture to help with recall and vocabulary stimulation. This game is appropriate for children and adults learning to read or those with reading and spelling difficulty.
ABC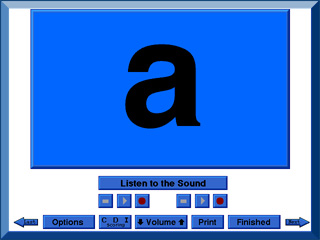 ABC is a simple game that shows the sounds, symbols, and alphabet names for the English alphabet. It also has a "Record and Playback" feature to listen to productions of the sounds.
This task requires the ability to attend to an auditory stimulus. This task is designed to prepare the client for letter and word recognition tasks found on other LocuTour games. This game establishes the "rules" for consonant and vowel sounds utilized in the other games.