Spanish Language Combo
Save on our most popular Spanish language titles.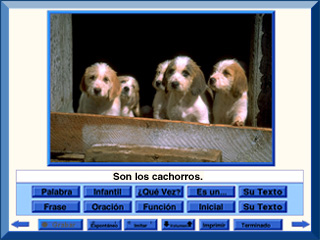 Now monolingual Speech-Language Pathologists can provide phonological treatment for their bilingual clients by using the activities on these CD-ROMs. Purchase Fonología en Español: Tratamiento, Fonología en Español: Dibujos y Actividades, Palabras Básicas para Los Niños, and "Es ..." Todo(Windows only) and get started with your Spanish-speaking clients.
Target Audience: Appropriate for Spanish-speaking children (L-1) ages 3-8 with impaired speech intelligibility. Based on Spanish Phonological Sound system not a Translation of English. Also appropriate for Spanish speaking children with Autism, PDD, Down Syndrome, Cerebral Palsy, and Language Delay.
Spanish Language Combo
by LocuTour Multimedia